For content marketers reviewing their social media strategies, the differences between some social channels are pretty clear – LinkedIn and Facebook for example, one is for B2B campaigns, the other for B2C – broadly speaking.
But when it comes to Twitter vs Instagram, the choice is not so obvious. One has been around for ever (in social media terms) the other is a relative newcomer that rumour has it, might be stealing the other's lunch. 
So what's the truth? Let's start with some numbers.
The Numbers:
There's no getting away from it, Instagram, created and launched by Kevin Systrom and Mike Krieger in October 2010 is now far more popular than Twitter worldwide, with more than twice the number of active monthly users.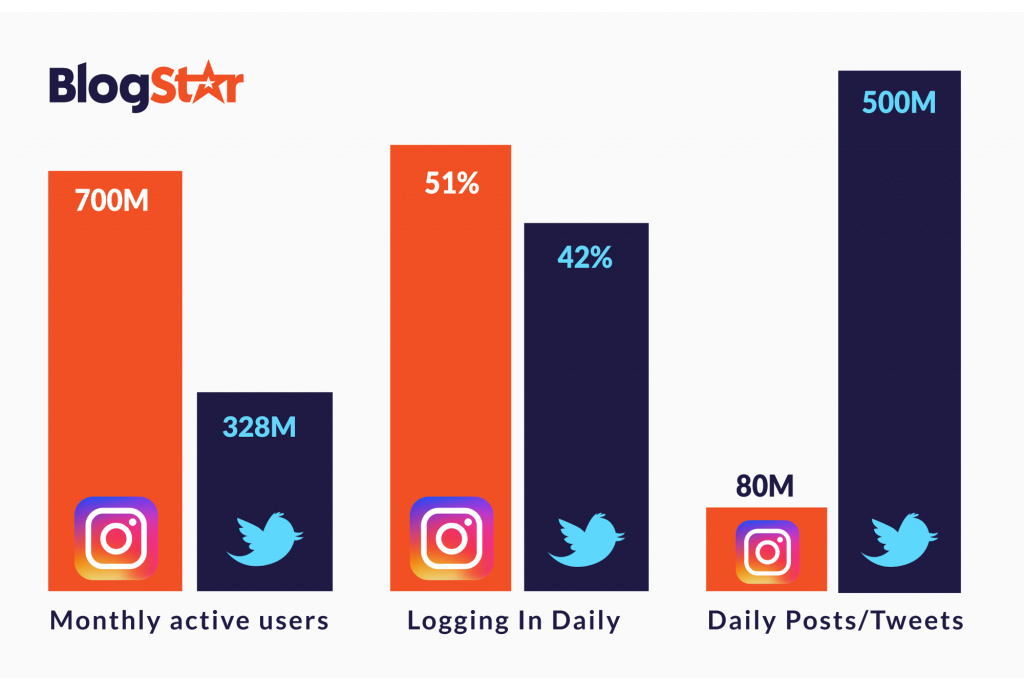 Where Twitter fights back is in terms of the number of posts per day, Twitter easily outstrips Instagram with more than five times the volume of posts per day, making Twitter a far more dynamic place to post.
UK Figures
So far we have been talking worldwide. In the UK, the audience difference narrows dramatically with 14M for Instagram and 13M Twitter, These (last official) figures are getting old now –  Instagram (2016) and Twitter (2013). Some independent research has extrapolated Twitter's UK user base may well  be nearer to 20M in 2017, which considering Instagram's fast growth rates, suggests they are currently neck and neck.
Pace of Growth
The speed of Instagram's growth worldwide is accelerating. It took them just four months to go from 600M to 700M users whereas it took six months to go from 500M to 600M users. Twitter on the other hand saw users increase by just 3% in 2016. With the difference in this pace of growth, Based on these worldwide figures, it's probable that UK Instagram users will soon far outstrip Twitter, if they don't already. 
The Demographics
The two channels are pretty close on user demographics. Instagram has a slightly younger profile, with fewer graduates.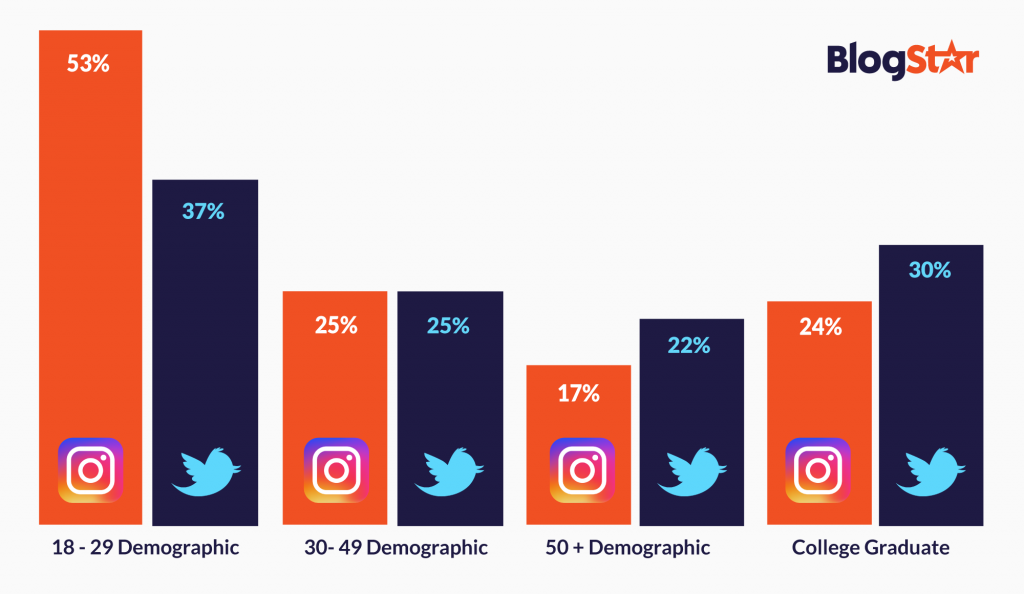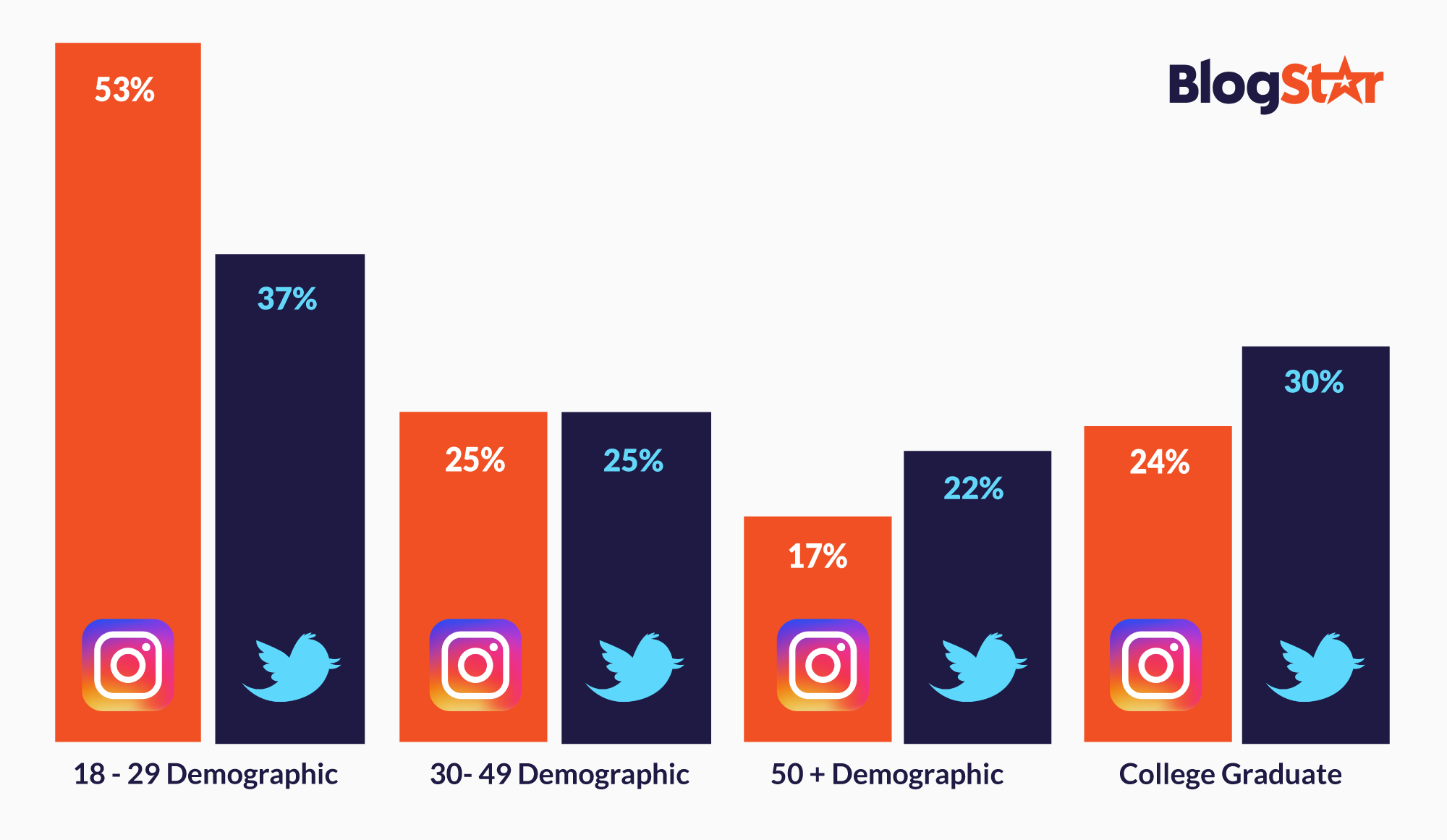 Gender
There's a definite bias towards female users on Instagram.
Marketing Effectiveness
So far we have established some subtle differences in the demographics of users of Instagram vs Twitter and some dramatic differences in adoption rate. Bearing in mind the user numbers in the UK may be fairly similar currently, the effectiveness of each in terms of engagement with customers becomes the most vital statistic of all for UK content marketers.
In terms of this, reported user engagement for Instagram is way ahead of Twitter with recent stats showing that 75% of Instagram users take some form of direct action after reading a post. In this respect, Instagram massively out guns Twitter. Some figures from 2015 illustrate this point: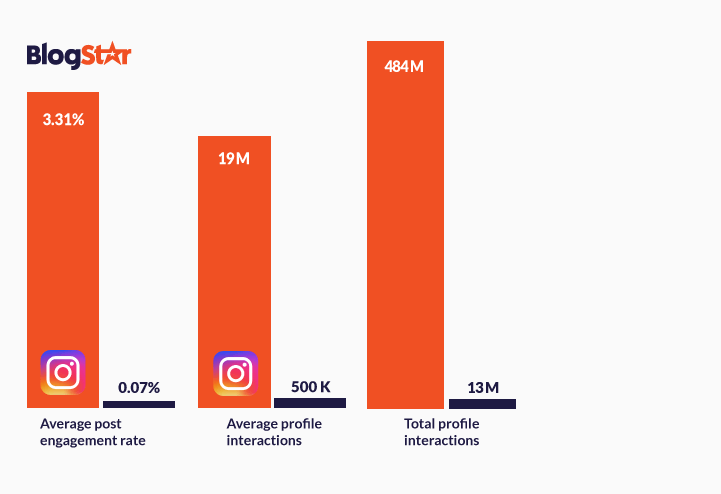 By way of counter, Twitter claims that 66% of users have discovered a new small or medium sized business on Twitter, that 94% of users plan to buy something from the businesses they follow, and that 69% of users purchased something from a small or medium sized business as a result of something they saw on Twitter. 
Download our eBook – 'Seven steps to a content strategy'
While this gives a steer on what to expect on engagement, brands will make their own mind up not least because marketing objectives will vary considerably. Below are three examples of successful marketing campaigns for each channel which illustrate this.
Instagram Success Stories  
1. Bloom & Wild increased bouquet sales by 62%
2. Philadelphia Cheese increased sales by 41%
3. Levis saw a 24% increase in ad recall
Read more detail on these campaigns.
Twitter Success Stories
1. LG increased smartphone sales by x 4
2.Taco Bell grew their followers to 600,000
3.Lidl sold 40,000 deluxe lobsters in one day
Read more detail on these campaigns via Our Social Times and Twitter.
Conclusion
So in conclusion, what you have with Twitter and Instagram are two powerful social channels with very similar UK audience sizes & profiles (currently) with one growing much faster than the other.
Where Instagram clearly outstrips Twitter is in the reported engagement levels. So if your goal is to increase engagement, Instagram has a strong argument to be preferred over Twitter.
When it comes to hard sales, there are good examples of both channels generating increased revenue for the brands using them.
Something also to bear in mind is that certain sectors will be stronger on Instagram than Twitter and vice versa.
So the starting point for many content marketers will be a process of understanding where their persona targets like to hang out most.
Infographic
View the main points of this blog summarised in our infographic below:

Save